Answer
Histologically similar in appearance to osteoid osteoma, osteoblastoma is behaviorally very different. [17] Demographically, it occurs in young patients in the second or third decade of life. A 2:1 male-to-female predominance exists. The lesion is distributed equally in the cervical, thoracic, and lumbar segments of the spine. The posterior elements are involved in 55% of cases, but the tumor can extend to the vertebral body in 42% of cases.
Patients typically complain of dull localized pain and paresthesias, as well as paraparesis and, if the tumor is large enough and encroaching on the spinal cord, paralysis.
Osteoblastomas are expansile lesions with multiple small calcifications and a peripheral scalloped and sclerotic rim. In more aggressive lesions, osseous expansion, bone destruction, infiltration of the surrounding tissue, and intermixed matrix calcification are present. Some 50% of osteoblastomas are radiolucent, and 20% are osteoblastic.
Marked radionucleotide uptake is exhibited on bone scan. CT demonstrates areas of mineralization, expansile bone remodeling, and sclerosis or a thin osseous shell at its margins. MRI is nonspecific but is the criterion standard for assessing the effect of the tumor on the cord and surrounding tissues.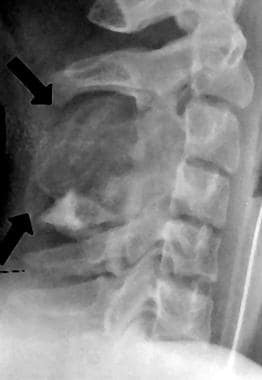 Spinal tumors. Lateral cervical spine x-ray demonstrating osteoblastoma in posterior elements of C3 and C4.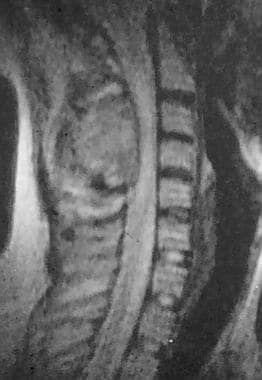 Spinal tumors. MRI of osteoblastoma in posterior elements of C3 and C4 seen on previous x-ray image.
Osteoblastomas are typically larger than 2.0 cm in diameter with histologic features of interconnecting trabecular bone and fibrovascular stroma similar to, but not as well organized as, osteoid osteoma. They can have an aneurysmal bone cyst component in 10-15% of cases.
Wide local resection is the treatment of choice whenever possible. This sometimes is limited by the proximity of vital vessels or neural tissue in the spine. A 10-20% recurrence rate exists for conventional osteoblastomas. Aggressive osteoblastomas have a recurrence rate of approximately 50% if wide margins are not attained. These tumors are not radiosensitive.
---
Did this answer your question?
Additional feedback? (Optional)
Thank you for your feedback!