Answer
Osteoid osteomas usually present in children aged 10-20 years, with a male predominance. They involve the axial skeleton only 10% of the time. In the spine, 59% of osteoid osteomas are found in the lumbar region, 27% in the cervical region, 12% in the thoracic region, and 2% in the sacral region. [14, 15]
Osteoid osteomas are usually stage 2 lesions and are actively symptomatic. They can result in painful scoliosis, radicular pain, gait disturbances secondary to pain and splinting, and muscular atrophy. Symptoms usually are relieved or ameliorated by administration of nonsteroidal anti-inflammatory drugs (NSAIDs) or salicylates. In the spine, osteoid osteomas occur 75% of the time in the posterior elements (pedicles, facets, or laminae). Osteoid osteomas occur 7% of the time in the vertebral body and 18% of the time in the transverse and spinous processes.
On plain radiography, osteoid osteomas appear as a round or oval radiolucent nidus, with a surrounding rim of sclerotic bone. An area of central calcification may be present, but this classic appearance may be obscured by complex spinal architecture. Bone scan shows marked increased uptake by the nidus, and a double intensity pattern may exist. Computed tomography (CT) is the criterion standard for radiologic diagnosis. The nidus is a well-defined area of low attenuation with or without central calcification surrounded by an area of sclerosis. (See the image below.)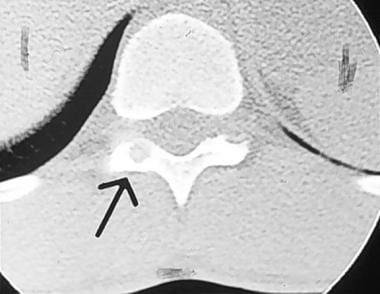 Spinal tumors. Axial CT scan of thoracic vertebra, which demonstrates nidus of osteoid osteoma in posterior elements.
The nidus is usually smaller than 1.5-2.0 cm, composed of microscopic well-organized trabecular bone with vascular fibrous connective tissue stroma surrounded by reactive cortical bone.
Treatment is accomplished by resection of the nidus via an open surgical approach or by percutaneous CT-guided resection. Percutaneous radiofrequency ablation (RFA) of the nidus has been performed with acceptable results. [16]
---
Did this answer your question?
Additional feedback? (Optional)
Thank you for your feedback!