Answer
The ultimate way of making the diagnosis and ascertaining the specific tumor type is to perform a biopsy of the spine lesion after all radiographic studies have been completed. Biopsies can be performed with open technique or percutaneous image-guided [7, 8, 9] technique. Percutaneous needle biopsies may not supply adequate tissue for the diagnosis of a primary tumor of the spine.
The basic principles of biopsy technique also apply to tumors of the spine. The surgeon performing the biopsy should take the most direct route to the tumor, with the least potential to contaminate adjacent compartments. The biopsy tract should be placed in line with the future incision site for surgical resection of the tumor, so that the biopsy tract can be excised with the specimen en bloc. (See the image below.)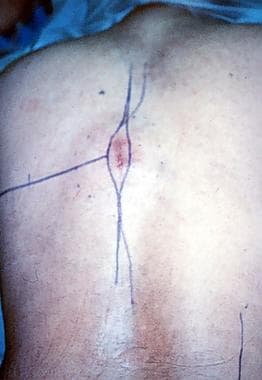 Spinal tumors. Photograph of patient's back at time of surgery, exhibiting course of definitive incision to excise chondrosarcoma en bloc with previous biopsy tract included with resection.
Meticulous hemostasis must be obtained, and a drain must be placed to prevent hematoma formation, which can dissect the soft-tissue planes and contaminate adjacent compartments. The drain should exit the skin in line with the incision so that it, too, can be excised with the final specimen.
---
Did this answer your question?
Additional feedback? (Optional)
Thank you for your feedback!