Answer
A great deal of confusion surrounds the exact pathology of this fracture. The modern origin of this confusion seems to be in a paper published by Schneider in 1964, wherein the term "hangman's fracture" was given to fractures sustained in MVAs that had radiographic similarities to fractures resulting from judicial hangings.
In 1964, Garber suggested the term traumatic spondylolisthesis for the more common injury pattern usually seen as a result of falls and MVAs. The injury pattern seen secondary to judicial hangings is a fracture-dislocation of C2. More precisely, it is a bilateral pedicle fracture of C2, along with distraction of C2 from C3 secondary to complete disruption of the disk and ligaments between C2 and C3. The injury pattern seen secondary to MVAs and falls also is a bilateral pedicle fracture, but differs from the judicial hanging injury pattern with respect to varying degrees of disk and ligamentous disruption and secondary C2/C3 distraction.
The mechanism of a hangman fracture (see the image below) is a combination of hyperextension and distraction. The mechanism of the traumatic spondylolisthesis fracture pattern primarily is hyperextension with varying degrees of axial compression and lateral flexion. Without the primary distraction force, there are varying degrees of disk and ligamentous disruption and secondary C2 displacement.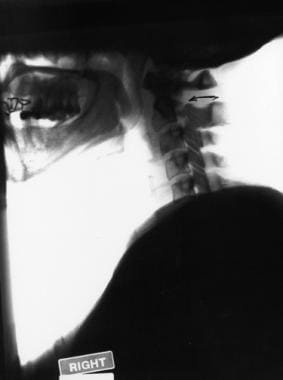 Hangman fracture
Traumatic spondylolisthesis is a common C-spine injury in fatal MVAs, and only occipitoatlantal dissociations occur more often. Up to one third of patients sustaining this injury have additional C-spine pathology, and up to 10% of patients have noncervical spinal pathology. Craniofacial and vertebral artery injuries are not uncommon findings. Interestingly, neurologic sequelae from spinal pathology are not as common as might be expected. This is due to the autodecompression of the spinal canal that takes place secondary to bilateral pedicle fractures.
---
Did this answer your question?
Additional feedback? (Optional)
Thank you for your feedback!