Answer
An isolated C2 lateral mass fracture is extremely rare and usually is found serendipitously when evaluating for other C2 traumatic pathology. If a C2 lateral mass fracture is found, other C-spine pathology must be sought. The mechanism of this fracture is axial compression with concomitant lateral bending.
Signs and symptoms of concomitant C-spine pathology tend to dominate the clinical picture. The isolated fracture may present with high neck pain and a normal neurological examination. Radiographic findings include impaction of the C2 component of the atlantoaxial articulation surface, asymmetry of C2 lateral mass height, and lateral tilting of the arch of C1. Atlanto-occipital and atlantoaxial dissociation can be seen in the image below.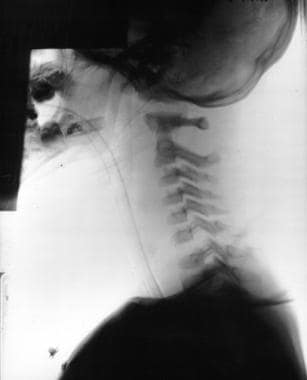 Atlantooccipital and atlantoaxial dissociation
---
Did this answer your question?
Additional feedback? (Optional)
Thank you for your feedback!