Answer
Pediatric patients with SMA must be monitored periodically by a pediatric orthopedic surgeon to assess their nutritional status and their spine and hips, as well as to evaluate for contracture development. (See the image below.)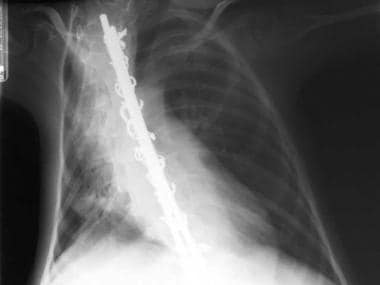 Spinal muscle atrophy. Follow-up radiographs in patient at age 13 years reveal some spinal decompensation. Note so-called coathanger appearance of ribs in dysplastic right hemithorax.
Physical therapy is useful for joint contracture prevention and stretching. Occupational therapy is useful for adaptive equipment for ADLs.
---
Did this answer your question?
Additional feedback? (Optional)
Thank you for your feedback!