Answer
Needle or trocar placement into the infected area is a minimally invasive test used to obtain histologic confirmation of the disease and tissue samples for culture. The yield and safety of the procedure are maximized by employing CT for guidance (see the image below). As in blood cultures, positive tissue cultures occur in only half of biopsies, especially if antibiotic therapy has already been initiated. In such cases, needle biopsy can be repeated, or the patient can be referred for open surgical biopsy.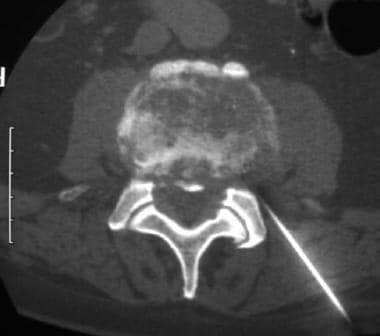 Trajectory of a needle in a biopsy of the infected disk space guided by CT scan. Care is taken to avoid the thecal sac and nerve roots.
---
Did this answer your question?
Additional feedback? (Optional)
Thank you for your feedback!