Answer
CT has the ability to detect diskitis earlier than plain radiography does. Findings include hypodensity of the intervertebral disk and destruction of the adjacent endplate and bone (see the image below), with edematous surrounding tissues.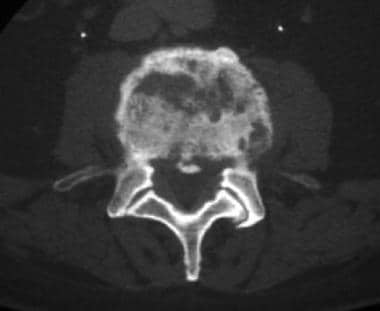 Axial CT scan in a patient with diskitis demonstrates extensive destruction of the vertebral endplate. Note the preservation of the posterior elements, including facet joints, lamina, and spinous process. This is characteristic for pyogenic diskitis and less common in tuberculosis (Pott disease).
Certain bacterial organisms can also produce gas in the site that is easily detected on CT scans. However, this is not pathognomonic, because as it can be present in degenerative spine disease.
The advantage of CT over radiography is that it can also detect associated paraspinal disease, especially when combined with IV contrast or myelography. CT can serve as a supplement to MRI, in that it is better able to distinguish between bone and soft tissue than MRI. CT can help monitor successful treatment, which is accompanied by increased bone density and sclerosis.
---
Did this answer your question?
Additional feedback? (Optional)
Thank you for your feedback!