Answer
The most sensitive and specific test for diskitis is magnetic resonance imaging (MRI). T1-weighted images (see the image below) show narrowing of the disk space and low signals consistent with edema in the marrow of adjacent vertebral bodies. T2-weighted images show increased signals in both the disk space and the surrounding vertebral bodies.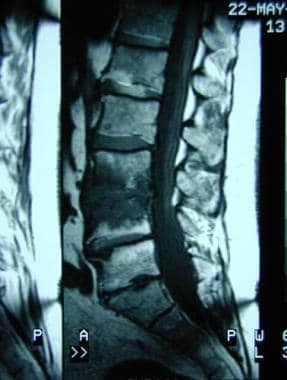 Sagittal T1-weighted MRI of the lumbar spine in a 74-year-old man, revealing diskitis of the L4-L5 disk space. Note extensive destruction of the endplates of the adjacent vertebral bodies. No compression of the thecal sac is present, which is an important consideration when contemplating surgical intervention.
MRI is very useful in helping distinguish between infectious diskitis, neoplasia, and tuberculosis. Diffusion-weighted imaging is useful in distinguishing between degenerative and infectious endplate abnormalities. Compared with positron emission tomography (PET), diffusion-weighted MRI costs less, has faster imaging times, and lacks ionizing radiation. [9]
Disk-space involvement directs attention toward infection; it only is involved late in tuberculosis and very rarely in neoplasia.
With the use of intravenous (IV) contrast (see the image below), MRI, like computed tomography (CT), can detect paraspinal disease (eg, paraspinal phlegmon or epidural abscess). A large amount of paraspinal soft-tissue swelling and a psoas abscess are often associated with spinal tuberculosis.
---
Did this answer your question?
Additional feedback? (Optional)
Thank you for your feedback!