Answer
Histologic specimens from muscle biopsy samples obtained early in the muscular dystrophy disease show only variations in muscle fiber sizes with focal areas of degenerating or regenerating fibers. In later stages of MD, the changes are more obvious, with marked variations in muscle fiber sizes, degeneration, and regeneration. Rounded opaque fibers, internal nuclei, splitting of fibers, and a proliferation of connective and adipose tissues are also present. As the disease progresses, fewer and fewer regenerative fibers are seen. In the end phase, the muscle is mostly replaced by adipose tissue, with residual islets of muscle fibers in a sea of fat.
Histochemical staining with the standard adenosine triphosphatase (ATPase) reaction shows a predominance of type I muscle fibers, with loss of clear-cut distinction into the various fiber types. Electron microscopy demonstrates nonspecific degeneration of the fibers, and immunocytochemical techniques show a persistence of fetal and slow myosin in many of these fibers. (See the images below.)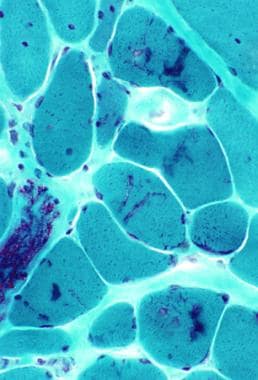 Gomori trichrome–stained section in patient with myofibrillar myopathy. Note the abnormal accumulations of blue-red material in several muscle fibers.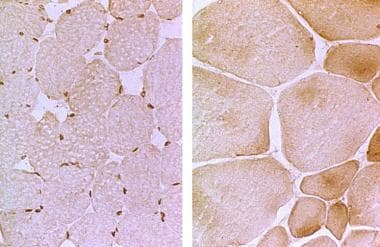 Left: The photomicrograph is a muscle biopsy with normal emerin immunostaining. Right: The micrograph is from a patient with X-linked Emery-Dreifuss muscular dystrophy. Note the absence of nuclear staining as well as the hypertrophied and atrophied muscle fibers.
---
Did this answer your question?
Additional feedback? (Optional)
Thank you for your feedback!