Answer
Diffuse idiopathic skeletal hyperostosis (DISH), also known as Forestier disease, describes a phenomenon characterized by a tendency toward ossification of ligaments. It most characteristically affects the spine. [1, 2] (See the image below.) Ossification of the longitudinal ligaments (especially the anterior ligaments) of the spine produces a tortuous paravertebral mass anterior to and distinct (at least radiologically) from the vertebral bodies. [3] Grossly, the appearance is that of candle wax dripping down the spine.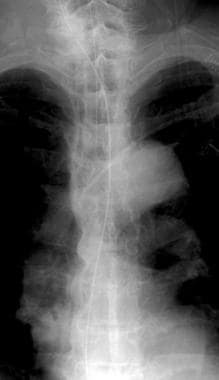 Radiograph of the thoracic spine (anteroposterior view) showing osteophytes on the right side only, a feature typical of diffuse idiopathic skeletal hyperostosis.
While the thoracic anterior longitudinal ligament is ossified, the areas of ossification often meet without fusion. Motion actually is possible, in contrast to lumbar vertebral bridging, which is associated with loss of lumbar motion. The zygapophyseal and sacroiliac joints are not involved in DISH, and the intervening intervertebral disk space is preserved.
---
Did this answer your question?
Additional feedback? (Optional)
Thank you for your feedback!