Answer
When limb-salvage reconstruction is possible, the following options exist, which must be chosen on the basis of individual considerations:
Autologous bone graft

Allograft

Prosthesis

Rotationplasty
Autologous bone grafts may be vascularized or nonvascularized. Rejection does not occur with these grafts, and the rate of infection is low. The growth plates of patients who are skeletally immature may limit options for stable bone fixation (osteosynthesis).
With allografts, graft healing and infection can be problematic, particularly during chemotherapy. Immunologic rejection can also occur. Allograft-prosthesis composites are also an option.
Prosthetic joint reconstruction can be solitary or expandable, though it is usually expensive. The longevity of such implants is a major concern in young children.
Rotationplasty (see the images below) is particularly suitable for patients with distal femur and proximal tibia tumors, particularly large tumors in which a high amputation is the only alternative. Lesions located in other areas of the femur or tibia may also be amenable to this treatment approach. Patients who are very young or athletic may benefit greatly from this procedure from a functional standpoint, and this procedure may also serve to minimize the number of future surgeries needed.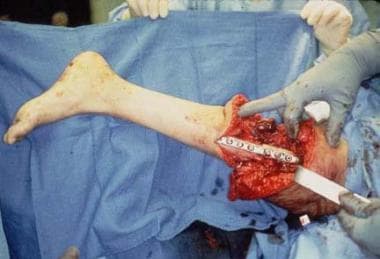 Intraoperative photograph of a Van Ness rotationplasty procedure. Osteosynthesis of the tibia to the residual femur is being performed. Courtesy of Alvin H. Crawford MD, FACS.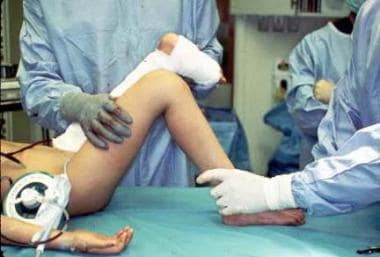 Clinical photograph taken at the conclusion of a Van Ness rotationplasty procedure (same patient as previous image). Note that the new "knee" of the operative side (left side) is purposely reconstructed distal to the normal right knee. This is in anticipation of the future growth potential of the unoperated limb. Courtesy of Alvin H. Crawford MD, FACS.
After tumor resection, vessels are usually repaired in an end-to-end fashion to optimize patency. The distal portion of the leg is rotated 180º and reattached to the thigh at the proximal edge of the resection. Other variations are also possible. [1, 29] The rotation allows the ankle to become a functional knee joint, so the length of the leg should be adjusted to match the contralateral knee. Ideally, before rotationplasty is embarked on, patients and families should either meet or review a video recording of a patient who has had the procedure.
---
Did this answer your question?
Additional feedback? (Optional)
Thank you for your feedback!