Answer
Biopsy of malignant bone lesions is not an insignificant procedure. An improperly performed biopsy can result in the amputation of an otherwise salvageable extremity. It has also been shown repeatedly that oncologic outcomes are optimized when the biopsy is performed by the same surgeon who will be responsible for the definitive tumor resection (if one is needed). [39, 40]
Biopsy procedures include the following:
Open biopsy (preferred to avoid sampling error and to provide adequate tissue for biologic studies)

Trephine biopsy or core-needle biopsy (preferred for vertebral bodies and many pelvic lesions)

Fine-needle aspiration (FNA; not recommended)
Incisional biopsy and core-needle biopsy (Craig needle biopsy; see the images below) are the most common types of biopsies performed by orthopedic surgeons. [41] Open lines of communication between the orthopedic surgeon and the pathologist are vital to help ensure that adequate tissue is obtained for diagnostic purposes.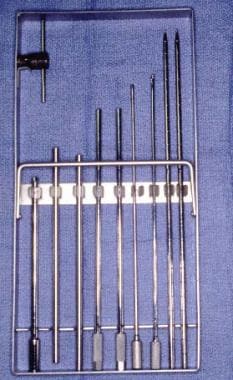 Core needle biopsy instruments commonly used for bony specimens. Craig needle set.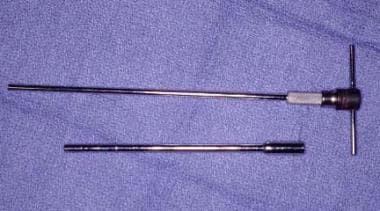 Close-up view of Craig needle biopsy instruments. Cutting cannula with T-handle attached (top) and sheath through which the cutting cannula passes (bottom).
The incision for an open biopsy must be carefully planned so as to avoid tumor contamination of the neurovascular structures and to facilitate removal of the biopsy tract en bloc during definitive surgery (see the image below).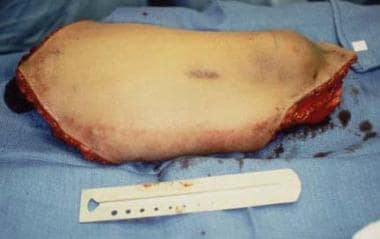 Resected specimen of a proximal tibia osteosarcoma. The primary lesion was such that the knee joint was resected with the primary lesion. Note that the previous longitudinal biopsy tract was completely excised with the specimen.
Regardless of the technique employed, a frozen section should be examined to confirm that the tumor has been sampled accurately. If possible, extraosseous components should be sampled rather than bone to lessen the risk of fracture. Seal bone holes with Gelfoam or a similar material to decrease the risk of hematoma and tumor spread. Drains should be of the closed-suction variety, and they should be placed directly in line with the skin incision (a short distance away).
---
Did this answer your question?
Additional feedback? (Optional)
Thank you for your feedback!