Answer
MRI of the primary lesion is the best method of assessing the extent of intramedullary disease, as well as associated soft-tissue masses and skip lesions (see the image below). This imaging modality is perhaps the single most important study for accurate surgical staging of the lesion with use of the Enneking staging system. The MRI should be of the entire bone (compartment).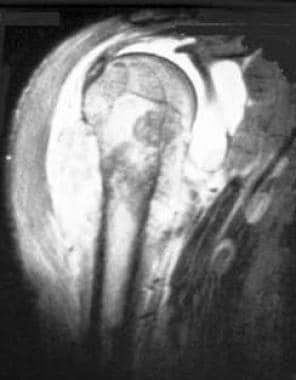 Magnetic resonance image appearance (T1-weighted image) of osteosarcoma of the proximal humerus (same patient as previous 4 images). Note the dramatic tumor extension into the adjacent soft-tissue regions.
In a meta-analysis of six studies including a total of 66 patients, Kupo et al found that percent slope analysis of dynamic MRI was useful for preoperative evaluation of the response of osteosarcoma patients to neoadjuvant chemotherapy. [24]
---
Did this answer your question?
Additional feedback? (Optional)
Thank you for your feedback!