Answer
Radionuclide bone scanning with technetium-99 (99mTc)-methylene diphosphonate (MDP/MDI) is important in evaluating for the presence of metastatic or multifocal disease (see the images below). After the bone scan, an image of abnormal areas should be obtained with computed tomography (CT) or magnetic resonance imaging (MRI).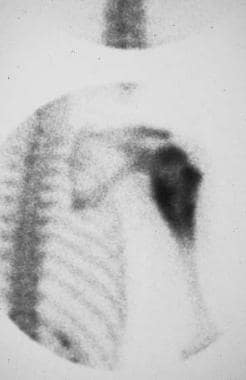 Intense radionuclide uptake of the proximal humerus is noted on a bone scan (same patient as previous 2 images).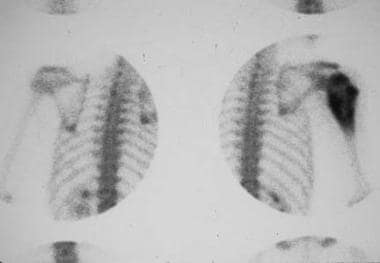 A comparison bone scan of the involved shoulder (right image) with the uninvolved shoulder (left image) (same patient as previous 3 images).
---
Did this answer your question?
Additional feedback? (Optional)
Thank you for your feedback!