Answer
Plain radiography in primary, posteroanterior (PA), and lateral chest views is helpful (see the image below). Plain films of the suspected lesions should be obtained in two views. No single feature on a radiograph is diagnostic. Osteosarcoma lesions can be purely osteolytic (~30% of cases), purely osteoblastic (~45% of cases), or a mixture of both.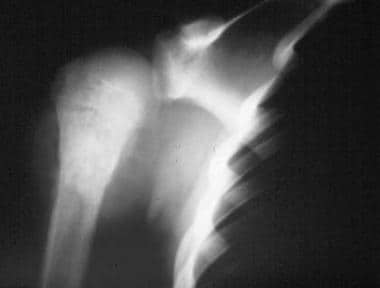 Radiographic appearance (plain radiograph) of a proximal humeral osteosarcoma (same patient as previous image). Note the radiodense matrix of the intramedullary portion of the lesion, as well as the soft-tissue extension and aggressive periosteal reaction.
Elevation of the periosteum may appear as the characteristic Codman triangle. Codman described this entity in 1909, stating, "In many cases near the junction of the healthy bone with the tumor, there is a reactive new bone formation beneath the periosteum. At the edge of the tumor, this layer of new bone ends abruptly and gives a characteristic appearance in the skiagraph [radiograph]." [3]
Extension of the tumor through the periosteum may result in a so-called sunburst appearance (~60% of cases). An image of the entire bone and the adjacent joint should be obtained to assess for skip lesions or joint involvement. Telangiectatic osteosarcomas are often very cystic and can be mistaken for an aneurysmal bone cyst.
---
Did this answer your question?
Additional feedback? (Optional)
Thank you for your feedback!