Answer
Osteosarcoma is the most common malignant bone tumor. [1, 2] It is an ancient disease that is still incompletely understood. Osteosarcoma is thought to arise from primitive mesenchymal bone-forming cells, and its histologic hallmark is the production of malignant osteoid. Other cell populations may also be present, as these types of cells may also arise from pluripotential mesenchymal cells, but any area of malignant bone in the lesion establishes the diagnosis as osteosarcoma.
Osteosarcoma is a deadly form of musculoskeletal cancer that most commonly causes patients to die of pulmonary metastatic disease (see the image below). [3, 4, 5, 6, 7] Most osteosarcomas arise as solitary lesions within the fastest growing areas of the long bones of children. The top three affected areas are the distal femur, the proximal tibia, and the proximal humerus, but virtually any bone can be affected.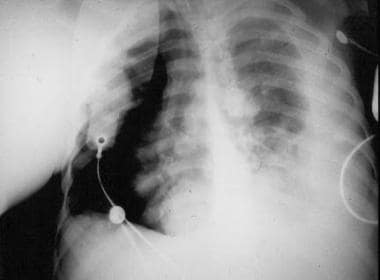 Chest radiograph of patient with osteosarcoma who died from pulmonary metastatic disease. Note the presence of a pneumothorax as well as radiodense (bone-forming) metastatic lesions.
Not all osteosarcomas arise in a solitary fashion. Multiple sites may become apparent within a period of about 6 months (synchronous osteosarcoma), or multiple sites may be noted over a period longer than 6 months (metachronous osteosarcoma). [5] Such multifocal osteosarcoma is decidedly rare, but when it occurs, it tends to be in patients younger than 10 years. [5]
The mainstay of therapy is surgical removal of the malignant lesion. Most often, limb-sparing (limb-preserving) procedures can be used to treat patients with this disease and, thus, preserve function. Chemotherapy is also required to treat micrometastatic disease, which is present but often not detectable in most patients (~80%) at the time of diagnosis. [8]
Guidelines for the management of osteosarcoma have been published (see Guidelines).
---
Did this answer your question?
Additional feedback? (Optional)
Thank you for your feedback!