Answer
A radiographic skeletal survey should be obtained after birth. Plain radiographs may depict the following three radiologic categories of OI:
Category I – Thin and gracile bones

Category II – Short and thick limbs

Category III – Cystic changes
Radiologic features commonly seen include the following:
Fractures – Commonly, transverse fractures and those affecting the lower limbs (see the first image below)

Excessive callus formation and popcorn bones - Multiple scalloped, radiolucent areas with radiodense rims

Skull changes - Wormian bones (see the second image below), enlargement of frontal and mastoid sinuses, and platybasia with or without basilar impression

Deformities of the thoracic cage - Fractured and beaded ribs (see the third and fourth images below) and pectus carinatum

Pelvic and proximal femoral changes - Narrow pelvis, compression fractures, protrusio acetabuli,

[24]

and shepherd's-crook deformities of the femurs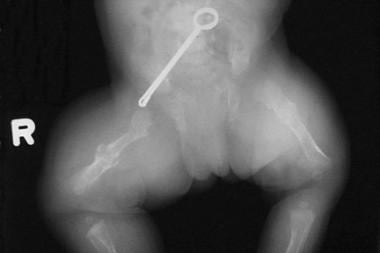 Osteogenesis imperfecta. Newborn has bilateral femoral fractures.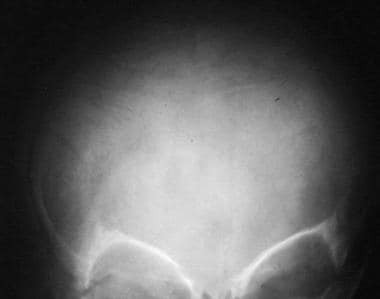 Osteogenesis imperfecta. Wormian bones are present in skull.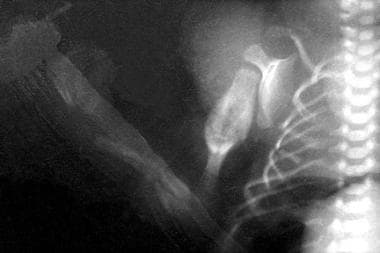 Osteogenesis imperfecta. Acute fractures are observed in radius and ulna. Multiple fractures can be seen in ribs. Old healing humeral fracture with callus formation is observed.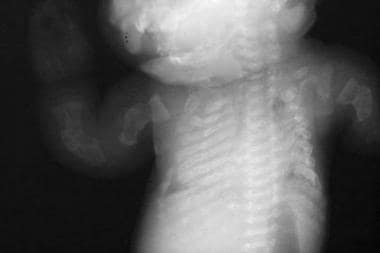 Osteogenesis imperfecta. Beaded ribs. Multiple fractures are seen in long bones of upper extremities.
In mild OI (type I), images may reveal thinning of the long bones with thin cortices. Several wormian bones may be present. No deformity of long bones is observed.
In extremely severe OI (type II), the survey may reveal beaded ribs, broad bones, and numerous fractures with deformities of the long bones. Platyspondylia may also be revealed.
In moderate and severe OI (types III and IV), imaging may reveal cystic metaphyses, or a popcorn appearance of the growth cartilage. Normal or broad bones are revealed early, with thin bones revealed later. Fractures may cause deformities of the long bones. Old rib fractures may be present. Vertebral fractures are common.
---
Did this answer your question?
Additional feedback? (Optional)
Thank you for your feedback!