Answer
Occasionally, patients with subacute thyroiditis may present with a solitary, hard nodule. A fine-needle aspiration (FNA) sample in subacute thyroiditis contains a mononuclear infiltrate composed mostly of lymphocytes and multinucleated giant cells (see the image below). Some authors advocate that FNA be performed in all patients with a tender thyroid to avoid misdiagnosis and inappropriate management. [43, 44, 45, 46]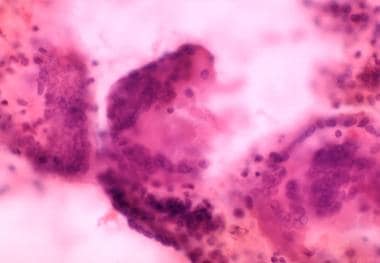 Three multinucleated, giant cell granulomas observed in a fine-needle aspiration biopsy of the thyroid; from a patient with thyrotoxicosis resulting from subacute granulomatous thyroiditis.
FNA is useful for diagnosis when atypical presentations of thyroid carcinoma and thyroid abscess are considered in the differential diagnoses.
FNA may provide unclear results in the acute stage, when atypical follicular cells may appear in the aspirate, mimicking thyroid carcinoma.
---
Did this answer your question?
Additional feedback? (Optional)
Thank you for your feedback!