Answer
Thyroid hormone levels are very elevated in this disease. The 6- to 8-week destructive phase of thyroiditis causes the release of preformed hormone stores from the thyroid. This form of thyroid hormone is highly iodinated, such that the levels of released hormones have a lower ratio of total T3 to total T4 than does Graves disease. A ratio of T3 to T4 of less than 15 usually increases suspicion of subacute thyroiditis. (See the image below.)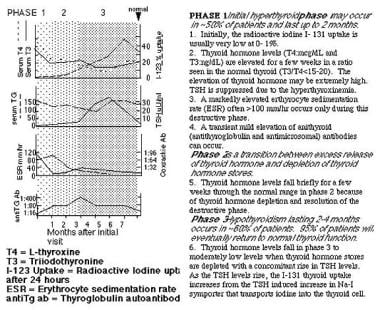 Example of laboratory values as they vary over the course of subacute granulomatous thyroiditis. The entire episode may evolve through all 3 phases of the disorder over a period of as long as 6 months.
Episodes are associated with high fever, severe myalgia, thyroid pain that often radiates to the ear, and very high levels of thyroid hormone.
The hallmarks of subacute granulomatous thyroiditis are a very high ESR, often as high as 60-100, and a radioiodine uptake of less than 1% at 24 hours.
After the thyroid is depleted of thyroid hormone, patients' serum levels of T4 and T3 decrease into the hypothyroid range. The hypothyroidism is usually mild but persists for 2-4 months. Supplementation with thyroid hormone is necessary only if the patients become symptomatic from the hypothyroidism. Ninety to 95% of patients spontaneously return to normal thyroid function.
---
Did this answer your question?
Additional feedback? (Optional)
Thank you for your feedback!