Answer
Core needle biopsy retrieves a thin core of tissue (approximately 1 × 10 mm). The procedure may be performed using various needles (most commonly a Tru-Cut needle [26] ). The core may not be representative of the entire tumor; thus, nonrepresentative grading is possible. FNAB samples a larger area of the tumor than core needle biopsy does.
Concern has been expressed about possible dissemination of tumor cells beyond the confines of the primary site; however, this appears to be uncommon. Both core needle and open biopsies can result in histologic diagnosis and grading of a sarcoma in more than 90% of cases. As with FNAB, a biopsy may be taken of deeper lesions under the guidance of imaging modalities (eg, CT, ultrasonography, or MRI). (See the image below.)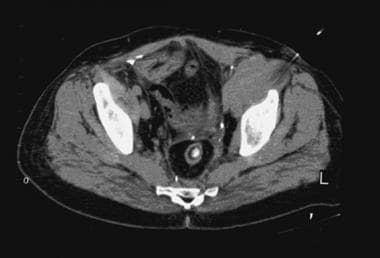 CT-guided needle biopsy of high-grade soft tissue sarcoma arising in left hemipelvis. CT artifact from needle can be seen in upper right corner of image as needle enters lesion just anterior and medial to dome of left hip joint. Image courtesy of Howard A Chansky, MD.
---
Did this answer your question?
Additional feedback? (Optional)
Thank you for your feedback!