Answer
CT is useful in checking for the presence and number of pulmonary metastases. Consider performing a CT scan of the liver in cases of intra-abdominal or retroperitoneal tumors.
Unlike CT, MRI is not limited to the transverse (axial) plane. Coronal, sagittal, and oblique planes may be imaged. MRI best defines the relation between a tumor and adjacent anatomic structures, such as compartment boundaries, nerves, vessels, and muscle. [22, 23] (See the image below.)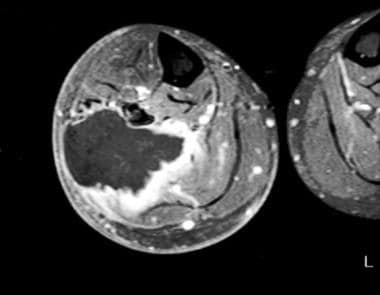 MRI is used to demonstrate involvement of critical structures by tumor. This recurrent, high-grade soft tissue sarcoma in posterior calf abuts tibial nerve and posterior tibial vessels. Extensive reactive zone surrounds structures. Patient was treated with below-knee amputation. Image courtesy of Howard A Chansky, MD.
Although MRI alone suffices for most patients, the information obtained from CT and MRI of the primary tumor occasionally may be complementary. Bony involvement may be better assessed with CT, as may the boundary between normal muscle and fibrous lesions.
---
Did this answer your question?
Additional feedback? (Optional)
Thank you for your feedback!