Answer
PRS in bone and soft tissue usually is a high-grade lesion, and this partly accounts for the almost uniformly grim prognosis. [4, 7] In a study of 130 patients with PRS of bone and soft tissue, osteosarcoma was the most common type, constituting 61.5% of all cases. [10] This was followed by fibrosarcoma (23.7%), malignant fibrous histiocytoma (MFH; 9.6%), chondrosarcoma (3.7%), and rare cases of angiosarcoma and Ewing sarcoma. No difference in the histologic type of PRS was demonstrated between orthovoltage and megavoltage groups.
Among soft-tissue PRS lesions, the most common histologic type is MFH (70%), followed by osteosarcoma, fibrosarcoma, malignant peripheral nerve sheath tumor (MPNST), chondrosarcoma, and angiosarcoma. [25]
Grossly, these tumors are soft and fleshy, with extension into adjacent soft tissue and formation of a soft-tissue mass. Hemorrhagic/necrotic foci and matrix production (osteoid/chondroid) may be seen. Degenerative calcific changes also may be noted. Microscopically, whereas specific characteristics such as osteoid production (in osteosarcomas) may be seen, these tumors generally show pleomorphic high-grade spindle cell features with marked nuclear pleomorphism, mitotic activity, and variable necrosis. (See the image below.)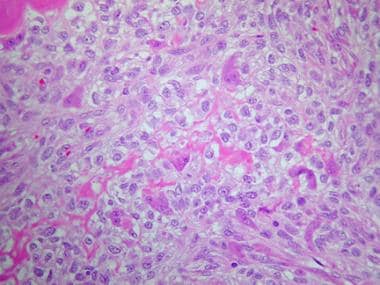 Light-microscopic appearance of postradiation osteosarcoma; tumor is composed of pleomorphic plump spindle cells with focal presence of neoplastic osteoid (pink areas) in between tumor cells. This meningeal tumor occurred 10 years after radiation therapy in patient who had received such therapy for recurrent pituitary neoplasm.
---
Did this answer your question?
Additional feedback? (Optional)
Thank you for your feedback!