Answer
Giant cell tumors of the tendon sheath have a well-circumscribed multilobular appearance and often possess shallow grooves along their deep surfaces created by the underlying tendons. These tumors are usually small, with a diameter of 0.5-5 cm. Compared with other lesions, giant cell tumors in the hand digits are usually smaller and have a more regular appearance. Giant cell tumors in the feet and elsewhere are often larger and more irregular in appearance.
On cut sections, these tumors have a mottled appearance, varying in color from grayish-brown to yellow-orange. The coloration depends on the amount of hemosiderin, collagen, and histiocytes in the sample. Tumors with more hemosiderin deposition due to bleeding have more of the yellow-orange or even reddish-brown color (see the images below).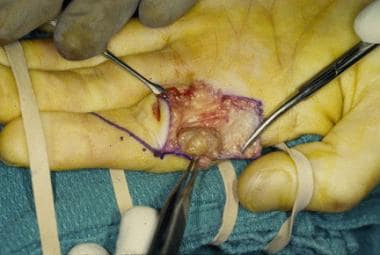 Intraoperative excision of the giant cell tumor of the tendon sheath, which has the typical golden-yellow color secondary to hemosiderin deposition. The radial digital nerve is dissected free and slightly volar to the mass.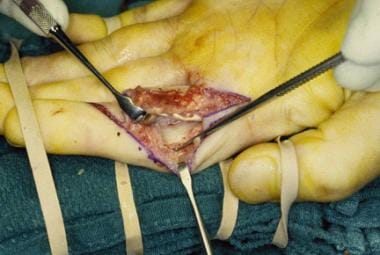 After excision, the bone is curetted, leaving the exposed radial aspect of the proximal phalanx, as shown here.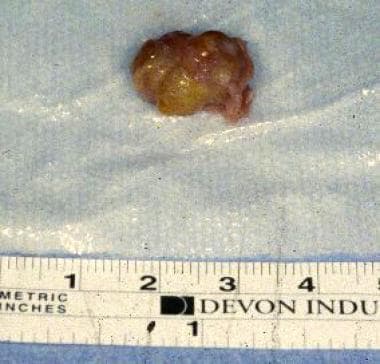 Giant cell tumor of the tendon sheath after marginal excision.
---
Did this answer your question?
Additional feedback? (Optional)
Thank you for your feedback!