Answer
Plain radiographs of the knee are appropriate in the evaluation of a patient with plica syndrome. However, they are useful only in that they help eliminate other diagnoses. [32]
Magnetic resonance imaging (MRI) is of limited value in detecting normal or pathologic plicae about the knee. [33] It rarely demonstrates these structures conclusively (see the image below). Jee et al published one of the only papers that touts the usefulness of MRI in diagnosing medial parapatellar plicae. [34] They reported 95% sensitivity and 72% specificity with their MRI approach. It should also be noted that plica syndrome has been a major research interest at their center. To the best of the authors' knowledge, no other center has matched these numbers.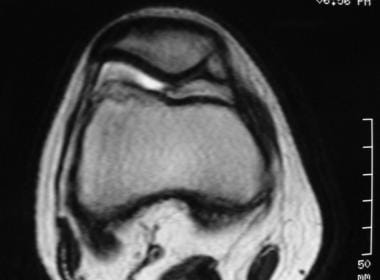 Plica syndrome. Axial MRI demonstrating abundant medial plical tissue.
---
Did this answer your question?
Additional feedback? (Optional)
Thank you for your feedback!