Answer
Plica syndrome of the knee is a constellation of signs and symptoms that occur secondary to injury or overuse. Plica is a Latin word meaning "fold." This term is simply a descriptive one; there is no empiric evidence that true folding of the synovial lining ever occurs.
Synovial plicae are normal structures found in many knees. Under normal circumstances, these plicae are not associated with any painful conditions. However, with the right combination of events they can become quite painful. [1] These events almost certainly include a somewhat exuberant plical shelf at baseline combined with an inciting event (either discrete macrotrauma or repeated microtrauma). Once an inflammatory process is established, the normal plical tissue may hypertrophy into a truly pathologic structure (see the image below). [2]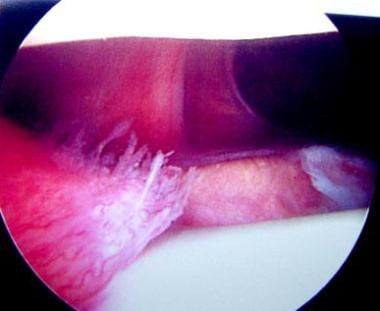 Plica syndrome. Typical appearance of a large beefy medial parapatellar plica.
Both the normal and the pathologic aspects of various synovial plicae readily became apparent to orthopedic surgeons with the advent of arthroscopy. Arthroscopy is a Japanese innovation that changed the face of orthopedics forever. Kenji Takagi (1888-1963) and Masaki Watanabe and others in Japan drove its early development, and early adopters in North America, such as Robert Jackson and Lanny Johnson, helped popularize this technology. [3, 4]
Future treatment of plica syndrome may be supplemented further by improved brace designs and pharmacologic treatments. Earlier recognition of patients with the syndrome might facilitate syndrome resolution by such means, in contrast to patients who experience years of symptoms.
This article provides an overview of the pertinent anatomy and of diagnosis and treatment of plica syndrome of the knee. [5, 6]
---
Did this answer your question?
Additional feedback? (Optional)
Thank you for your feedback!