Answer
Sansone et al reported a 4.7% prevalence rate of popliteal cysts in a series of 1001 adult patients. [7] Their most common associated lesions were meniscal lesions (83%), most frequently involving the posterior horn of the medial meniscus. The authors also found that 43% of the meniscal lesions were associated with articular cartilage damage and that 32% were associated with anterior cruciate ligament tears.
However, in children, popliteal cysts usually do not communicate with the knee joint; in rare cases, the cysts are associated with intra-articular pathology. In most cases, the cysts are self-limited; they rarely require surgical excision.
Meniscal cysts are less common. The prevalence rate is 1.5-4%. The literature has conflicting reports regarding the most common location of meniscal cysts. According to Campbell et al, in a series of 2572 knee magnetic resonance images (MRIs), meniscal cysts of the medial meniscus were noted to be nearly 2 times more common than cysts of the lateral meniscus. [8] However, in an earlier study by Ryu and Ting, medial and lateral meniscal cysts occurred with equal frequency in a small series of 18 patients. [9]
One of the most common bursa affected by chronic trauma is the prepatellar bursa. The resulting condition is also known as housemaid's knee or carpet layer's knee and occurs as a result of the repetitive trauma from kneeling. The prepatellar bursa can become filled with a hematoma and develop a thick capsule, thereby making it feel firm. [10] Other less common bursae that become inflamed are the medial collateral ligament bursa, lateral collateral ligament bursa, infrapatellar bursa, medial gastrocnemius bursa, and the semimembranosus bursa.
Multiple reports have described less common benign cysts about the knee. These include ganglion cysts, as shown in the images below, that occur in various areas (eg, cruciate ligaments) and synovium cyst enlargements at the proximal tibiofibular joint. [11] The latter cysts can potentially cause neurologic compromise of the peroneal nerve. Cystic adventitial disease of the popliteal artery has also been reported. Patients with these cysts present with intermittent claudication because the cysts compress the popliteal artery.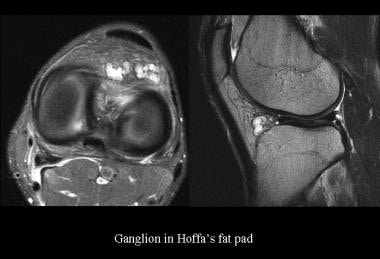 Ganglion in the Hoffa fat pad. Courtesy of James K. DeOrio, MD, Laura W. Bancroft, MD, and Jeffrey J. Peterson, MD.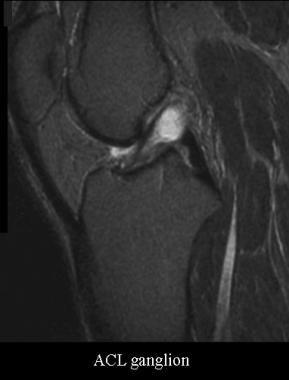 Ganglion of the anterior cruciate ligament. Courtesy of James K. DeOrio, MD, Laura W. Bancroft, MD, and Jeffrey J. Peterson, MD.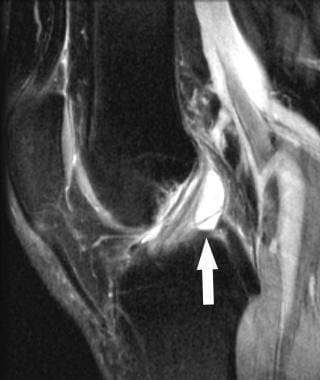 Cruciate ganglion. Sagittal T2-weighted magnetic resonance image shows a cyst (arrow) that slightly displaces the otherwise normal-appearing anterior cruciate ligament. Courtesy of William B. Morrison, MD.
Reports also describe cases of myxoid intraneural cysts of the common peroneal nerve that are associated with pain around the knee and leg and that require surgical excision. [12] The importance of always considering the possibility that any cyst around the knee can become infected is demonstrated by a rare case report of a popliteal cyst infected with Neisseria gonorrhoeae. [13]
---
Did this answer your question?
Additional feedback? (Optional)
Thank you for your feedback!