Answer
Cysts can occur in many shapes and forms around the knee, as shown in the images below. A cyst is defined as a closed cavity, or sac, that is lined with epithelium. It can contain liquid or semisolid material, can be normal or abnormal, and can occur in soft tissue or in bone. Benign or malignant masses must be distinguished from cystic lesions. This article discusses benign cysts that occur in the soft tissue around the knee or outside bone and that are filled with fluid or semisolid material. See the images below.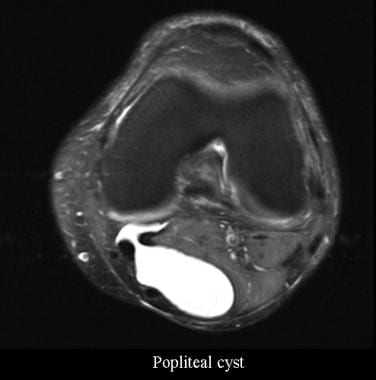 Popliteal cyst. Courtesy of James K. DeOrio, MD, Laura W. Bancroft, MD, and Jeffrey J. Peterson, MD.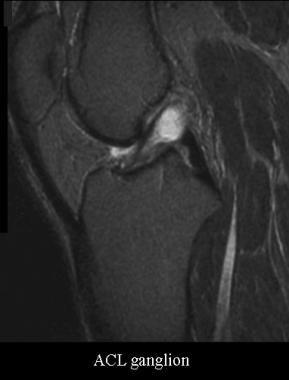 Ganglion of the anterior cruciate ligament. Courtesy of James K. DeOrio, MD, Laura W. Bancroft, MD, and Jeffrey J. Peterson, MD.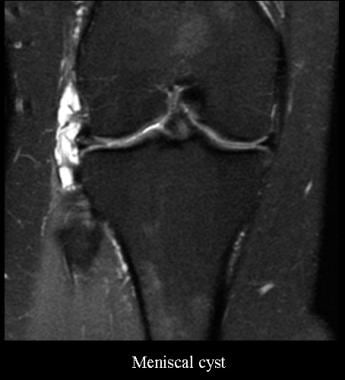 Meniscal cyst. Courtesy of James K. DeOrio, MD, Laura W. Bancroft, MD, and Jeffrey J. Peterson, MD.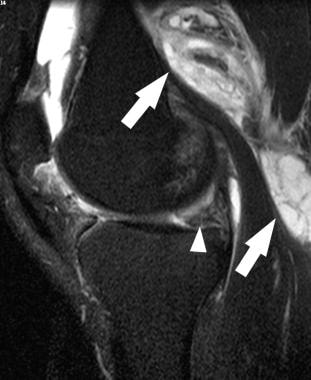 Baker cyst. Sagittal T2-weighted magnetic resonance image shows a large Baker cyst (arrow) posteromedial to the joint capsule and adjacent to the medial gastrocnemius muscle. Note the joint effusion and underlying complex tear of the medial meniscus (arrowhead). Courtesy of William B. Morrison, MD.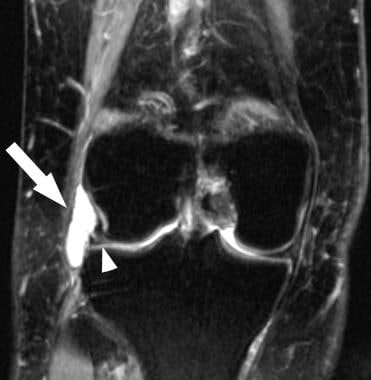 Meniscal cyst. Coronal T2-weighted magnetic resonance image shows a cyst (arrow) adjacent to the lateral meniscus (arrowhead) and also demonstrates a tear communicating with the cyst. Courtesy of William B. Morrison, MD.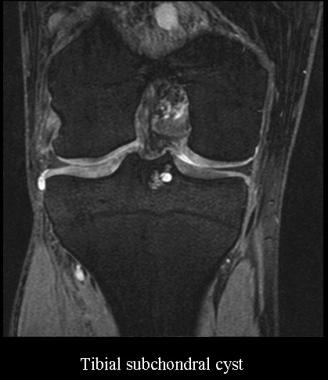 Tibial subchondral cyst. Courtesy of James K. DeOrio, MD, Laura W. Bancroft, MD, and Jeffrey J. Peterson, MD.
The understanding of various knee cysts is highly dependent on a thorough knowledge of the anatomy of the knee, which is a highly mobile structure. Bursae—sacs or saclike structures that are located at places where friction develops between the soft tissues and around the bony prominences—line many of the ligaments, tendons, and bony prominences around the knee. They can be lined with synovium and respond much the way synovium does to insults and pathologic conditions. Bursae can fill with fluid, and this accounts for the large majority of cysts seen around the knee.
According to Gray's Anatomy of the Human Body, there are at least 13 bursae around the knee. [1] Four are present anteriorly; the largest is between the patella and skin. Four are present laterally and posterolaterally. Five are present medially and posteromedially. The bursa between the medial head of the gastrocnemius and the knee capsule, as well as the bursa between the lateral gastrocnemius head and the capsule, often communicate with the knee joint. Although normally quiescent, any of these bursae can become inflamed, fill with fluid, and present as a cystic mass.
Two types of bursae are described: those normally present and adventitious ones. The adventitious type occurs as a result of chronic irritation over abnormal bony prominences such as an osteochondroma or bunion. This type of bursa lacks an epithelial lining; however, it can become filled with blood from repetitive trauma and it can also become infected.
Other soft tissue cysts that occur around the knee are entities such as ganglion cysts; intraneural cysts; popliteal artery cysts and other vascular masses; and a wide assortment of secondary cysts, such as those caused by rheumatoid arthritis and osteoarthritis and those resulting from blood- or pus-filled bursae.
Crema et al, as part of the Multicenter Osteoarthritis Study (MOST), found that most subchondral cysts demonstrated full or partial contrast enhancement on MRI and were located adjacent or in the midst of enhancing bone marrow edema-like lesions. The authors noted that because pure cystic lesions are not expected to enhance on MRI, the term "subchondral cyst-like bone marrow lesion" may be appropriate to describe these lesions. [2]
Four hundred knees were included in the study. Subchondral cysts were detected in 260 of 5600 subregions (4.6%). After intravenous contrast administration, 245 cysts (94.2%) showed full enhancement; 12 (4.6%), partial enhancement; and three (1.2%), no enhancement. Enhancing bone marrow edema-like lesions (BMLs) were found in 237 (91.2%) subregions containing cysts, which were located adjacent to or in the middle of BMLs. In 121 subregions (46.5%) having cysts, no adjacent full-thickness cartilage loss was detected. [2]
Chatzopoulos et al found that Baker cysts were present in 72 of 195 (37%) patients with knee osteoarthritis. Abnormal and intense tracer accumulation in early-phase bone scintigraphy were significantly more frequent in osteoarthritic knees with Baker cysts than in those without. The authors noted that clinical and radiographic variables were not able to predict the presence of those cysts. [3]
For patient education information, see Knee Pain Health Center.
---
Did this answer your question?
Additional feedback? (Optional)
Thank you for your feedback!