Answer
Because type IV tibial plateau fractures are high-energy injuries, they may be associated with soft-tissue injuries and sometimes neurovascular injuries and knee dislocation, thereby adding to the knee instability. (See the image below.)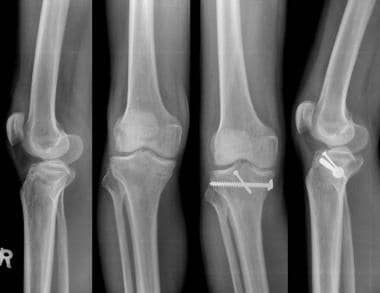 Type IV medial tibial condyle fracture treated with arthroscopy-assisted elevation and percutaneous cancellous screw fixation along with percutaneous screw fixation of the tibial spine fracture.
Nonoperative treatment is indicated only for nondisplaced fractures. Patients with good bone stock who have sustained low-energy trauma are better treated by closed reduction and percutaneous cannulated cancellous screw fixation. In those with high-energy fractures with tearing of the lateral collateral ligament or fracture of the fibular head, a midline or medial parapatellar approach and extraperiosteal approach is preferred.
The fracture must be elevated, reduced, and supported by a buttress plate, and the soft tissues should be repaired. If the intercondylar eminence with the cruciate is avulsed, it should be reduced and fixed with a lag screw or loop of wire. In patients with a predominant posterior fragment, an additional posteromedial incision may be necessary.
The poor prognosis associated with these fractures is the result of related neurovascular injury, soft-tissue instability, the increased demands placed on the articular surface of the medial plateau with weightbearing, and the high-energy forces involved in producing these fractures. [27]
---
Did this answer your question?
Additional feedback? (Optional)
Thank you for your feedback!