Answer
If the depression is small and the joint remains stable, nonoperative treatment is preferred in elderly persons. However, if the joint is unstable in a physiologically younger patient, surgery is usually indicated. The depressed fracture can be visualized with arthroscopy or under a C-arm. A window is made in the metaphyseal region, the depressed articular surface is elevated, and the subarticular portion is supported with a graft and then supported with one or two cannulated screws or with a plate (see the image below).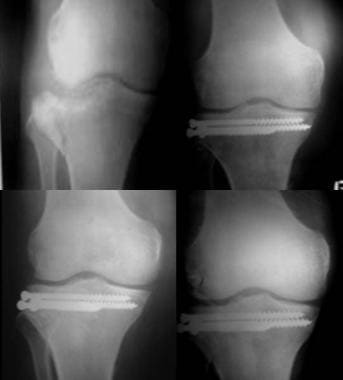 Type III tibial plateau fracture with central depression in an elderly person treated surgically using percutaneous elevation, bone grafting, and cancellous screw fixation.
Formal open reduction and plate fixation for Schatzker type I-III fractures is an alternative to arthroscopically assisted reduction and fixation. [26] Direct visualization of the reduction of the joint surface can be obtained via a submeniscal arthrotomy or by detaching the anterior horn of the lateral meniscus using a lateral approach.
In cases with wide displacement, associated fibular head fracture, and osteoporotic bone, buttressing with a plate provides better fixation than screws alone and may decrease the risk of collapse of the elevated fragments. If one is in doubt, buttressing should be used.
---
Did this answer your question?
Additional feedback? (Optional)
Thank you for your feedback!