Answer
With joint instability, surgery should be used to address the impacted articular fragments (see the images below). In these fractures, the depressed fragment must be elevated and supplemented with a bone graft. This can be performed either intra-articularly, elevating the anterior horn of the lateral meniscus, or by making a window in the lateral condyle and elevating the fragment with support from graft material and fixation with a buttress plate.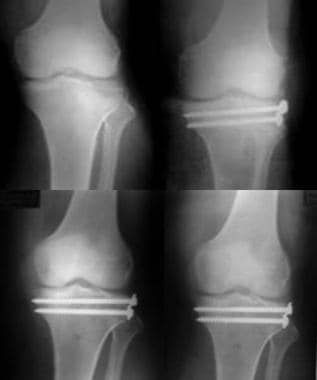 Type II tibial plateau fracture in a young active adult with good bone stock treated with percutaneous elevation and cannulated cancellous screw fixation without bone grafting.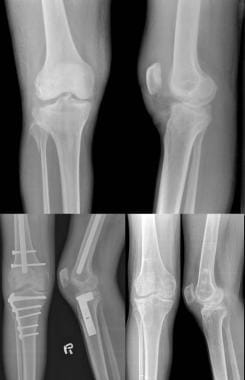 Type II tibial condyle fracture involving the tibial spine and more than 50% of the medial condyle fixed with biological buttress plating of the lateral plateau.
If depression is anterior or central, a straight lateral parapatellar skin incision with transverse submeniscal joint exposure is better. Preservation and repair of the lateral meniscus is the goal. With the use of an impactor from below, the fracture fragments are disimpacted, elevated, and supported with a bone graft. In the case of minimal comminution of the lateral condyle, cancellous screws with washers suffice, whereas a buttress plate is advocated for a comminuted fracture in soft osteoporotic bone.
---
Did this answer your question?
Additional feedback? (Optional)
Thank you for your feedback!