Answer
Schatzker et al proposed a classification system of condyle fractures based on the fracture pattern and fragment anatomy. This classification system, which is widely accepted and used today, divides these fractures into the following six types [9] :
Type I - This is a wedge or split fracture of the lateral aspect of the plateau, usually as a result of valgus and axial forces; the wedge fragment is not compressed (depressed), because the underlying cancellous bone is strong; this pattern is usually seen in younger patients

Type II - This is a lateral wedge or split fracture associated with compression; the mechanism of injury is similar to that of a type I fracture, but the underlying bone may be osteoporotic and unable to resist depression, or the force may have been greater (see the first and second images below)

Type III - This is a pure compression fracture of the lateral plateau; as a result of an axial force, the depression is usually located laterally or centrally, but it may involve any portion of the articular surface (see the third image below)

Type IV - This is a fracture that involves the medial plateau; as a result of either varus or axial compression forces, the pattern may be either split alone or split with compression; because this fracture involves the larger and stronger medial plateau, the forces causing this type are generally greater than those associated with types I, II, or III (see the fourth image below)

Type V - This fracture includes split elements of both the medial and the lateral condyles and may include medial or lateral articular compression, usually as a result of a pure axial force occurring while the knee is in extension

Type VI - This is a complex, bicondylar fracture in which the condylar components separate from the diaphysis; depression and impaction of fracture fragments are the rule; this pattern results from high-energy trauma and diverse combinations of forces (see the fifth, sixth, and seventh images below)

[10]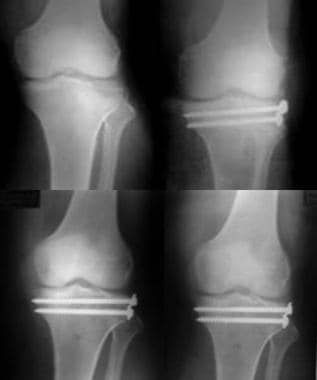 Type II tibial plateau fracture in a young active adult with good bone stock treated with percutaneous elevation and cannulated cancellous screw fixation without bone grafting.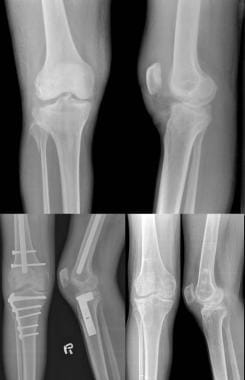 Type II tibial condyle fracture involving the tibial spine and more than 50% of the medial condyle fixed with biological buttress plating of the lateral plateau.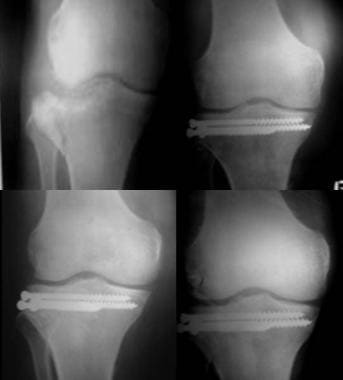 Type III tibial plateau fracture with central depression in an elderly person treated surgically using percutaneous elevation, bone grafting, and cancellous screw fixation.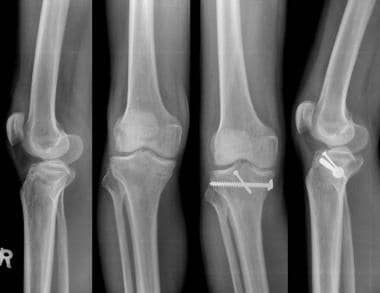 Type IV medial tibial condyle fracture treated with arthroscopy-assisted elevation and percutaneous cancellous screw fixation along with percutaneous screw fixation of the tibial spine fracture.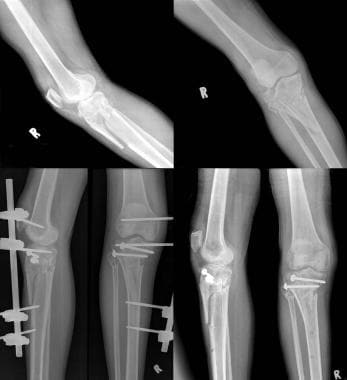 Type VI tibial plateau fracture undergoing biological fixation of the lateral condyle and external fixation of the medial plateau, resulting in an acceptable clinical and radiological result.

Type VI tibial plateau fracture with severe soft tissue injury successfully treated with Ilizarov external ring fixator.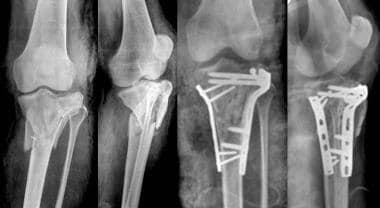 High-energy type VI tibial plateau fracture treated with bone grafting and double plating after the soft tissue condition improved.
---
Did this answer your question?
Additional feedback? (Optional)
Thank you for your feedback!