Answer
Most often, especially in older children, the standard anterolateral or Smith-Petersen approach is used. This can be combined with a capsule plication, if needed, with an acetabular procedure, or with both. In a child older than 3 years, femoral shortening osteotomy has been found to be safer and more effective than traction (see the image below). [72] At that time, if proximal femoral dysplasia is present, such as that observed with significant anteversion or coxa valga, this can also be corrected.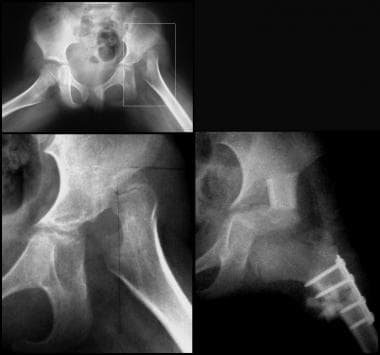 Radiographs from 6-year-old child who underwent open reduction with capsular plication, femoral shortening, and pelvic (Pemberton) osteotomy.
Even in children younger than 2 years, the derotational shortening femoral osteotomy has been safely performed with open reduction of the hip in selected hip dislocation patients. [73] Furthermore, a study of walking children with idiopathic hip dislocations suggested that performing an open reduction of the hip without concurrent femoral osteotomy strongly predicts the need for a secondary procedure. [74]
---
Did this answer your question?
Additional feedback? (Optional)
Thank you for your feedback!