Answer
The intertrochanteric area of the femur is distal to the femoral neck and proximal to the femoral shaft; it is the area of the femoral trochanters, the lesser and the greater trochanters (see the image below). The intertrochanteric area can also be seen as the area where the femur changes from an essentially vertical bone to a bone angling at a 45° angle from the near-vertical to the acetabulum or pelvis. The femoral artery and nerve are anterior; the sciatic nerve is posterior. (See Hip Joint Anatomy.)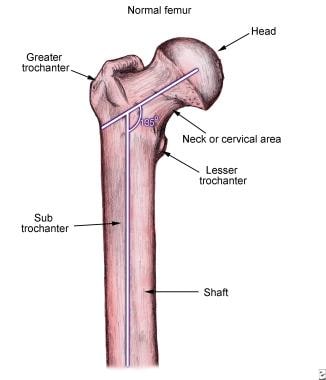 Normal femur anatomy.
The attachments of the iliopsoas and the gluteus medius can cause certain displacements, depending on the fracture patterns. These factors may make reduction difficult. The attachment of the gluteus maximus to the lateral femoral shaft is opposite to the posteromedially placed lesser trochanter; it thus acts as a guide to the level of the lesser trochanter and is helpful in the placement of a guide wire for the compression screw. The vastus lateralis overlies the lateral cortex of the proximal femur and must be elevated for application of a side plate.
---
Did this answer your question?
Additional feedback? (Optional)
Thank you for your feedback!