Answer
Surgery for trigger thumb is performed as follows. The A1 pulley is approached through a transverse incision in the flexion crease overlying the MCP joint (see the image below). Palpate the flexor pollicis longus (FPL) to ensure that the incision is centered appropriately.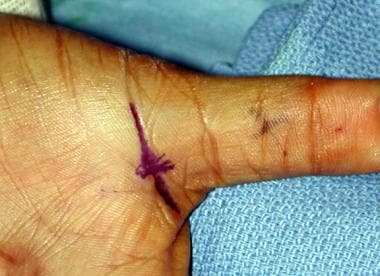 Incision for trigger thumb release placed in metacarpophalangeal flexion crease, centered over flexor tendon nodule.
Bluntly dissect through subcutaneous tissue; identify and gently retract radial and ulnar neurovascular bundles. Expose the A1 pulley, identify its proximal and distal edges, and incise it longitudinally (see the first image below). [74] Avoid injury to the underlying tendon (see the second image below).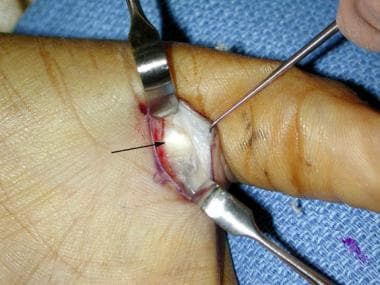 Trigger thumb. A1 pulley exposed within surgical field (arrow). Digital neurovascular bundles behind retractors.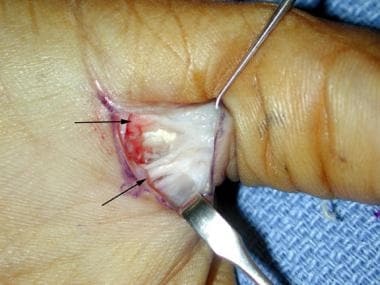 Trigger thumb. A1 pulley has been released; flexor pollicis longus tendon is now exposed. Retractors have been removed to demonstrate proximity of neurovascular bundles (arrows) to tendon.
Inspect the tendon nodule during full passive motion of the interphalangeal (IP) joint. Ensure that no further restrictions to excursion are present. A band of tissue proximal to A1 may exist that also requires release. [75] Observe FPL excursion while the patient actively flexes the thumb to verify a complete surgical decompression.
Deflate the tourniquet, obtain hemostasis, and close the incision with nylon. Dress the wound with a soft compressive bandage
---
Did this answer your question?
Additional feedback? (Optional)
Thank you for your feedback!