Answer
The MCP joint is hyperextended to displace the neurovascular structures dorsally, minimizing the risk of injury.
A transverse incision measuring 1-1.5 cm is made over the involved metacarpal head. Blunt dissection is used to spread the subcutaneous fat and expose the tendon sheath.
The proximal edge of the A1 pulley is identified, and a scalpel blade is used to divide the entire A1 pulley in the midline under vision. Care is taken to avoid incising too distally and risk cutting into the A2 pulley, which can result in bowstringing. A study suggests that the proximal part of the A2 pulley can be safely incised if the release of the A1 pulley in isolation does not result in relief of triggering. [72] This is still experimental and is best left to hand or plastic and reconstructive surgeons.
The patient is asked to actively move the digit to confirm full release. Meticulous hemostasis is achieved with a bipolar cautery, and the wound is closed with two or three skin sutures. The hand is left free, and motion is encouraged immediately following the procedure.
If a percutaneous approach is favored, a pair of blunt-tipped, fine scissors is introduced through the incision, and the A1 pulley is transected (see the image below). Care is taken not to drift too distally. Disappearance of a grating sensation indicates complete section of the pulley through a separate, distal oblique incision.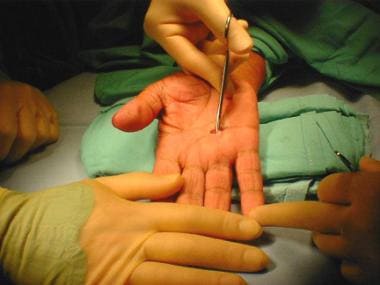 A1 pulley is sectioned by using blunt-tipped, fine scissors, keeping strictly in midline. Note digit being held in hyperextended position by assistant to displace neurovascular bundles away from midline.
A study by Rogo-Manaute et al showed that it is possible to use ultrasonographically guided percutaneous release to achieve a success rate of 100%. With adequate anatomic knowledge, technical training, and a basic ultrasound machine, sonographically directed A1 pulley release can be performed safely and successfully, thus offering an alternative to conventional open technique. [73]
On rare occasions, sectioning the A1 pulley does not relieve triggering, indicating that the A3 pulley might be involved. If that is the case, the A3 pulley requires division. This percutaneous technique as described here usually applies to most cases of triggering, exceptions being surgery for trigger thumb in children and triggering involved in conditions like RA, in which the nodule formation may be distal to the A1 pulley and for which open surgery may be required.
---
Did this answer your question?
Additional feedback? (Optional)
Thank you for your feedback!