Answer
The author's technique for steroid injection is as follows. A mixture of triamcinolone, 1% lidocaine, and 0.5% bupivacaine is used, in a ratio of 2:1:1, respectively; adrenaline is not used. The nodule in the palm is well localized and circled out using an indelible skin marker. The procedure is performed in an office setting, using strict aseptic precautions, with alcoholic povidone-iodine used for injection-site preparation. Ethyl chloride is used only if requested; frequently, it is unnecessary, and most patients tolerate this procedure quite well
A 26-gauge needle is introduced in a proximal-to-distal direction in the nodule, making an angle of 45° with the palm (see the first image below). The needle enters the nodule with a distinct grating sensation; positioning of the needle is verified by asking the patient to move the digit when it is possible to clearly observe the needle moving with the digit (see the second image below).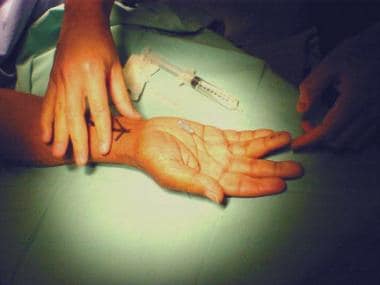 Introduction of needle into tendon sheath at 45° angle to palm for injection treatment.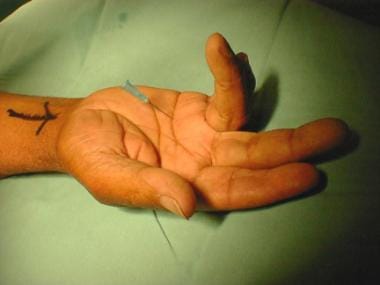 Movement of needle with flexion of digit confirms correct positioning of needle for injection treatment.
The syringe with the steroid preparation then is attached to the needle. Attempting to inject the drug with light pressure confirms the intratendinous location of the needle. Do not inject the solution if significant resistance to injection flow is noted, because this may indicate that the needle tip is in the tendon rather than just within the tendon sheath. The needle is withdrawn very carefully until a give-way sensation is felt, indicating that the tip of the needle is out of the tendon and in the sheath. The preparation is then injected.
A small water-impermeable dressing is applied. The patient is actively encouraged to move the digit; in most cases, the triggering is relieved
(Carlson and Curtis prefer a midaxial injection at the level of the midproximal phalanx as a simple and painless way to access the flexor sheath for the purpose of injection. [58] )
A follow-up appointment is made for 3-4 weeks after the treatment. Splinting is not used routinely for these cases, although a hand-based MP-block Orthoplast splint has been described as useful.
Although injection treatment has long been administered by "feel" and experience, research suggests that using ultrasonographically guided steroid injection may maximize the injection's accuracy and, consequently, its beneficial effects in the treatment of trigger digits. [59, 60]
No major complications from injection treatment are noted. A transient rise in blood and urine sugar levels is common in patients with diabetes. Advise these patients that this is likely to occur. Theoretically, repeated steroid injections could cause attrition and/or rupture of tendons, but only 1 such case has been reported to date. [61]
---
Did this answer your question?
Additional feedback? (Optional)
Thank you for your feedback!