Answer
At the level of the distal palmar crease, a tender nodule can be palpated, usually overlying the MCP joint.
The affected digit may lock in a flexed or (less commonly) extended position. When the patient attempts to move the digit more forcefully beyond the restriction, the digit may snap or trigger beyond the restriction. The triggering movement is very painful for the patient. (See the image below.)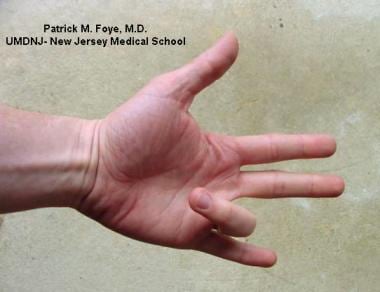 Trigger finger often results in difficulty flexing or (in this case) extending metacarpophalangeal joint of involved digit.
In severe cases, the patient is unable to move the digit beyond the restriction, and thus no triggering occurs.
With a trigger thumb, the tenderness to palpation is found at the palmar aspect of the first MCP joints rather than over the distal palmar crease.
---
Did this answer your question?
Additional feedback? (Optional)
Thank you for your feedback!