Answer
Trigger thumb (see the image below) usually occurs idiopathically, though it develops more frequently in individuals with diabetes or osteoarthritis. Trigger thumb is more likely to occur in an individual with any condition that causes diffuse proliferation of the tenosynovium, such as inflammatory arthritis, gout, or chronic infection (eg, fungus, atypical mycobacteria). This process can extend distal to the MCP joint and, when severe, cause stiffness rather than intermittent triggering.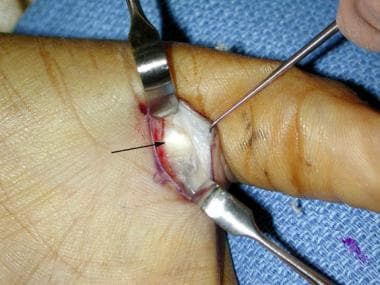 Trigger thumb. A1 pulley exposed within surgical field (arrow). Digital neurovascular bundles behind retractors.
Certain people appear more prone to tenosynovitic conditions; patients with trigger thumb are more likely to develop carpal tunnel syndrome and de Quervain disease. The roles of overuse and trauma in trigger thumb are controversial, though the condition does have a predilection for the dominant hand.
---
Did this answer your question?
Additional feedback? (Optional)
Thank you for your feedback!