Answer
A mismatch between the flexor tendon and the proximal pulley mechanism occurs in most cases of TF. Normally, the tendons of the finger flexors glide back and forth under a restraining pulley. [15, 16, 17] Thickening of the flexor tendon sheath restricts the normal gliding mechanism. A nodule may develop on the tendon, causing the tendon to get stuck at the proximal edge of the A1 pulley when the patient is attempting to extend the digit, thereby causing difficulty. (See the image below.)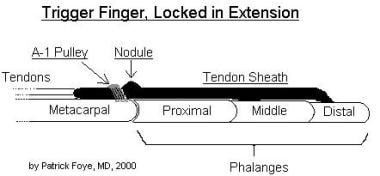 Inflamed nodule can restrict tendon from passing smoothly beneath A1 pulley. If nodule is distal to A1 pulley (as shown in this sketch), then digit may get stuck in extended position. Conversely, if nodule is proximal to A1 pulley, then patient's digit is more likely to become stuck in flexed position.
When more forceful attempts are made to extend the digit, by using increased force from the finger extensors or by applying an external force (for example, by exerting force on the finger with the other hand), the digit classically snaps open with significant pain at the distal palm and into the proximal aspect of the affected digit. Less commonly, the nodule is restricted distal to the A1 pulley, resulting in difficulty flexing the digit.
Using sonoelastography, a newer technique for quantitative assessment of the stiffness of soft tissues, the data from one study noted that the causes for snapping in trigger finger were increased stiffness and thickening of the A1 pulley. Three weeks after corticosteroid injection, the pulley thickness and the ratio of subcutaneous fat to the pulley both decreased; snapping disappeared in all patients studied. [18]
---
Did this answer your question?
Additional feedback? (Optional)
Thank you for your feedback!