Answer
Trigger finger (TF; also referred to as stenosing tenosynovitis), one of the most common causes of hand pain and disability, is a condition that causes pain, stiffness, and a sensation of locking or catching when the digit is flexed and extended. (See the image below.) The patient may present with a digit locked in a particular position, most often flexion, which may require gentle, passive manipulation into full extension. [1] TF most commonly affects the ring finger and the thumb (trigger thumb) but can also occur in the other fingers.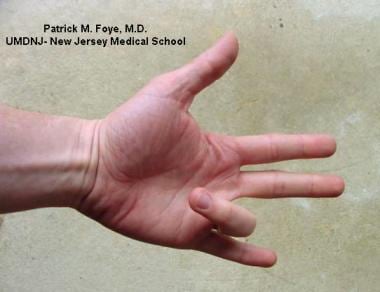 Trigger finger often results in difficulty flexing or (in this case) extending metacarpophalangeal joint of involved digit.
TF results from thickening of the flexor tendon within the distal aspect of the palm. [2, 3] This thickening causes abnormal gliding and locking of the tendon within the tendon sheath. Specifically, the affected tendon is caught at the edge of the first anular (A1) pulley.
---
Did this answer your question?
Additional feedback? (Optional)
Thank you for your feedback!