Answer
The most bothersome complication from closed management of a mallet finger is a dorsal pressure sore over the DIP joint. This results from excessive pressure of the splint or tape at that site and is probably potentiated by a hyperextension posture of the joint (see the image below). Treatment of mallet finger does not represent an instance in which one can assume that if extension is good, hyperextension is better. Notice, in fact, that dorsally over the DIP joint, the skin blanches when the joint is held in a hyperextended position. Prefabricated orthoses appear to have a higher rate of skin complications than custom-made orthoses do. [22]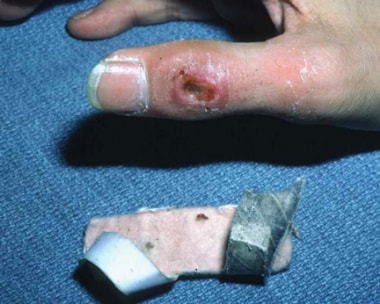 Pressure-sore formation can result from a splint that is applied too tightly, especially if the joint is maintained in a hyperextended position rather than a position of neutral extension.
---
Did this answer your question?
Additional feedback? (Optional)
Thank you for your feedback!