Answer
Patient education and compliance are keys to good results. Once extension splinting has been initiated, it should be maintained without even a momentary lapse for the prescribed treatment period. Tendinous injuries require 6-8 weeks of splinting, [8] and bony injuries require 4-5 weeks. [9]
The time that is spent educating the patient regarding the necessity for nonstop protection in extension, as well as in techniques for maintaining joint extension (even when cleaning the finger and changing the splint), will be rewarded with favorable results.
The DIP joint should be immobilized in full extension so that the finger is straight. Sustained hyperextension of the joint, however, may cause ischemia in the skin over the dorsum of the joint and contribute to the development of pressure sores, which are occasionally observed as a result of tight splinting. (See the image below.)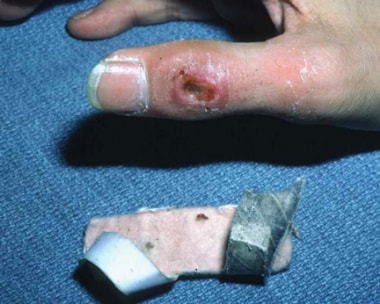 Pressure-sore formation can result from a splint that is applied too tightly, especially if the joint is maintained in a hyperextended position rather than a position of neutral extension.
---
Did this answer your question?
Additional feedback? (Optional)
Thank you for your feedback!