Answer
The physical examination findings of mallet finger include localized swelling and tenderness to palpation at the affected DIP joint, as well as an inability to actively extend the injured joint. (See the images below.)

Despite active extension effort, the distal interphalangeal joint of the index finger rests in flexion, characteristic of a mallet finger.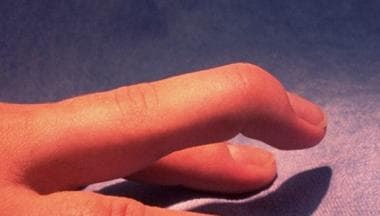 Typical mallet finger deformity.
In some individuals, the swan-neck deformity, with hyperextension of the proximal interphalangeal (PIP) joint, may be found, owing to imbalance of the extensor mechanism. However, this is more often a late finding in untreated injuries.
---
Did this answer your question?
Additional feedback? (Optional)
Thank you for your feedback!