Answer
MRI is preferred for detection of pheochromocytoma in children and in pregnant or lactating women. MRI has a reported sensitivity of up to 100% in detecting adrenal pheochromocytomas, does not require contrast, and does not expose the patient to ionizing radiation. MRI is also superior to CT scanning for detecting extra-adrenal pheochromocytomas.
In approximately 70% of cases, pheochromocytomas appear hyperintense on T2-weighted images (as demonstrated in the image below), because of their high water content. [46]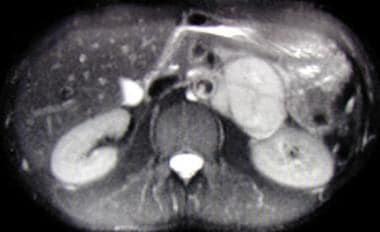 Axial, T2-weighted magnetic resonance imaging (MRI) scan showing large left suprarenal mass of high signal intensity on a T2-weighted image. The mass is a pheochromocytoma.
Initial studies have suggested that MR spectroscopy can be used to distinguish pheochromocytomas from other adrenal masses. [47, 48] Specifically, a resonance signature of 6.8 ppm appears to be unique to pheochromocytomas; the signature apparently is attributable to the catecholamines and catecholamine metabolites present in pheochromocytomas. [48]
---
Did this answer your question?
Additional feedback? (Optional)
Thank you for your feedback!