Answer
Abdominal CT scanning has an accuracy of 85-95% for detecting adrenal masses with a spatial resolution of 1 cm or greater but is less accurate for lesions smaller than 1 cm. Differentiating an adenoma from a pheochromocytoma is more difficult using CT scanning. While most pheochromocytomas have CT attenuation of greater than 10 Hounsfield units (HU), they rarely contain sufficient intracellular fat to have an attenuation of less than 10 HU. [41] In fact, a retrospective study by Buitenwerf et al found that out of 222 pheochromocytomas, only one had an attenuation value at or below 10 HU on unenhanced CT scanning, indicating a sensitivity of 99.6% for the 10 HU threshold. [42]
However, most pheochromocytomas, although hypervascular, have variable enhancement loss that may, in some cases, be similar to that of adrenal metastases but in others may be similar to enhancement loss of adrenal adenomas. [43] Therefore, in patients in whom pheochromocytomas are strongly suspected, adrenal pheochromocytomas cannot be entirely excluded from the list of differential diagnoses of adrenal neoplasms with an attenuation value of less than 10 HU and a washout of greater than 60% on delayed scanning.
Although it has been thought that the use of intravenous contrast poses a risk of inducing hypertensive crisis in patients with pheochromocytomas, a controlled, prospective study in patients receiving low-osmolar CT-scan contrast [44] and a retrospective review in patients who received nonionic contrast [45] concluded that this use of intravenous contrast is safe, even in patients not receiving alpha or beta blockers. A CT scan of a paraganglioma appears below.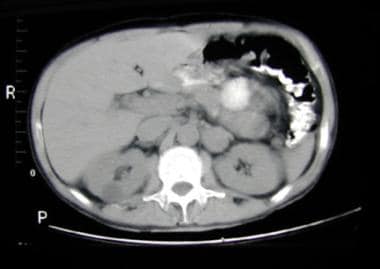 Abdominal computed tomography (CT) scan demonstrating left suprarenal mass of soft-tissue attenuation representing a paraganglioma.
---
Did this answer your question?
Additional feedback? (Optional)
Thank you for your feedback!