Answer
During the night, the relaxed posture of plantarflexion at the ankle tends to favor contracture of the triceps surae. To prevent this, night splints that hold the ankle in dorsiflexion can be worn. [36] Patients who wear a posterior night splint should be warned to take it off before getting out of bed. As an anecdotal example, one patient walked to the toilet while wearing the splint, slipped, and sustained a humeral fracture. However, a dorsally applied splint, as opposed to a posterior splint, need not be taken off before the patient gets out of bed (see images below).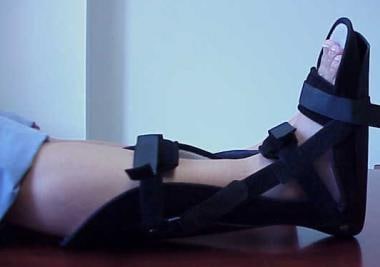 A night splint applied on back of the leg and foot.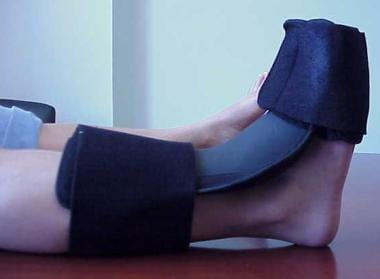 A night splint applied on the front of the leg.
Attard et al compared the effectiveness of the posterior night splint, which dorsiflexes the foot, with that of the anterior night splint, which maintains the foot in a plantigrade position. [37] In this study, two thirds of all participants confirmed that morning pain and stiffness was less after wearing the night splints; both types were relatively easy to don and doff, but the posterior orthosis was more uncomfortable and disrupted sleep. On average, the anterior night splint reduced heel pain more significantly than the posterior orthosis did.
---
Did this answer your question?
Additional feedback? (Optional)
Thank you for your feedback!