Answer
A variety of exercises can help the patient achieve active and passive ankle dorsiflexion with the knee kept straight and the subtalar joint in inversion, which helps achieve maximum stretch of the triceps surae. [10] The foot can be rolled over a tennis ball or a can to massage and stretch the plantar fascia. The exercises can be performed at home or can be guided by a physical therapist (see the images below). [33]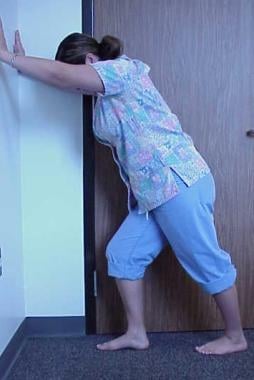 Stretching exercise. Lean against the wall with the knee kept straight and the heel touching the floor.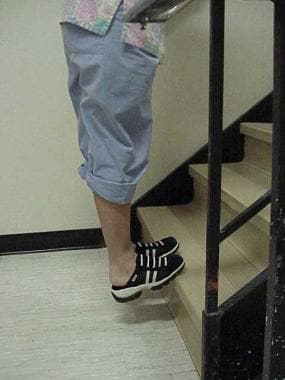 Stretching the back of the leg at the edge of a stair.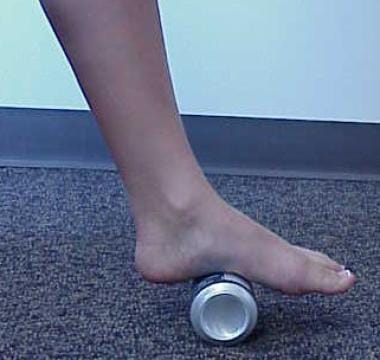 Massaging and stretching the plantar fascia using a can.
Plantar fascia–specific stretching exercises
To perform the exercise, the patient crosses the affected leg over the contralateral leg. While placing the fingers across the base of the toes, the patient pulls the toes back toward the shin until he or she feels a stretch in the arch or plantar fascia. The patient confirms that the stretch was correct by palpating tension in the plantar fascia (see the image below).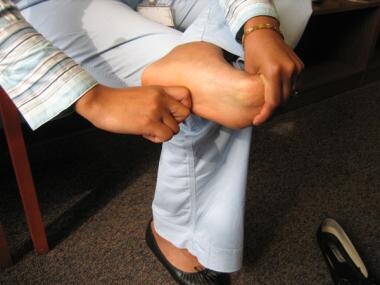 Plantar fascia tissue-specific stretching exercise
A randomized, prospective study with 2-year follow up compared Achilles tendon stretching with plantar fascia–specific exercises. [34] The authors found plantar fascia–specific stretching exercises to be superior.
Rompe et al, [35] randomly assigned 102 patients with acute plantar fasciopathy to perform an 8-week plantar fascia–specific stretching program (n = 54) or to receive repetitive low-energy radial shock-wave therapy without local anesthesia, administered weekly for 3 weeks (n = 48). [35] The primary outcome measures were a mean change in the Foot Function Index (FFI) sum score at 2 months after baseline, a mean change in item 2 on the FFI (pain during the first few steps of walking in the morning), and satisfaction with treatment. The stretching program was superior to repetitive shockwave therapy for treating acute symptoms of proximal plantar fasciopathy.
Intrinsic muscle strengthening
Exercises include toe curls or other activities, such as picking up marbles with the toes.
---
Did this answer your question?
Additional feedback? (Optional)
Thank you for your feedback!