Answer
Heel spurs develops in the origin of the flexor digitorum brevis in approximately 50% of patients with proximal plantar fasciitis. The etiology is thought to be repetitive traction that leads to collagen degeneration, angiofibroblastic hyperplasia, and matrix calcification. Plain weightbearing radiographs can show calcaneal spurs in approximately 50% of patients with plantar fasciitis, but, because spurs are frequently noted in patients without heel pain, the presence of calcaneal spurs is not considered contributory to the pain, and it does not affect the diagnosis or treatment. [23, 24] (See the image below.)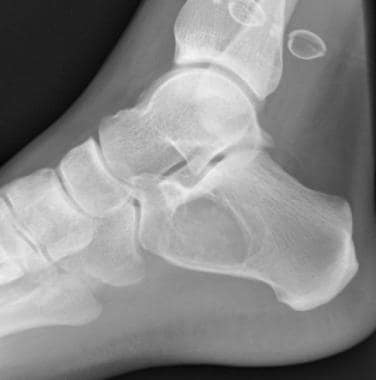 Lateral radiograph of the hindfoot showing a cyst in the anterior aspect of the calcaneus in a 19-year-old patient who presented with heel pain.
However, a report by Johal and Milner suggests a significant association between plantar fasciitis and calcaneal spur formation. In their study, the lateral heel radiographs of 19 patients with a diagnosis of plantar fasciitis and 19 comparison subjects with a lateral ankle ligament sprain matched for age and sex, were reviewed independently by two observers. Objective measurements of calcaneal spur length and a subjective grading of spur size were recorded. There was a significantly higher prevalence of calcaneal spurs in the plantar fasciitis group than in the comparison group (89% vs 32%). There was good interobserver and intraobserver agreement. [25]
Plain radiographs showing the lateral view of the calcaneus can be useful in detecting a stress fracture, which appears as a double-dense sclerotic line. However, 3-4 weeks may pass from the onset of symptoms until the injury is detectable on plain radiographs. Bony infections or tumors can also be detected on plain radiographs.
---
Did this answer your question?
Additional feedback? (Optional)
Thank you for your feedback!