Answer
Neovascularization is the hallmark of PDR. It most often occurs near the optic disc (neovascularization of the disc [NVD]) or within 3 disc diameters of the major retinal vessels (neovascularization elsewhere [NVE]). (See the image below.)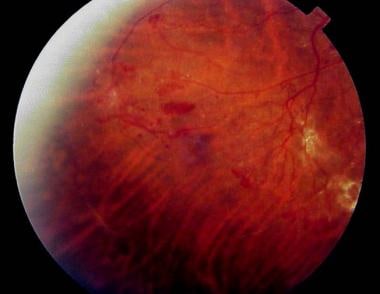 New vessel formation on the surface of the retina (neovascularization elsewhere)
Preretinal hemorrhages appear as pockets of blood within the potential space between the retina and the posterior hyaloid face. As blood pools within this space, they may appear boat shaped. (See the image below.)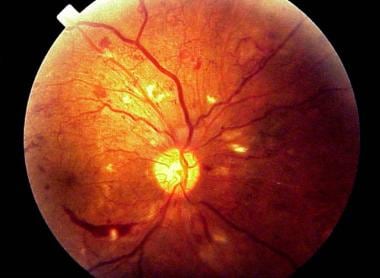 Boat-shaped preretinal hemorrhage associated with neovascularization elsewhere.
Hemorrhage into the vitreous may appear as a diffuse haze or as clumps of blood clots within the gel.
Fibrovascular tissue proliferation is usually seen associated with the neovascular complex and also may appear avascular when the vessels have already regressed. (See the images below.)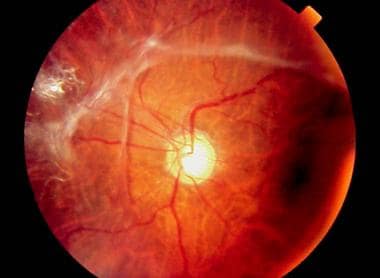 Fibrovascular proliferations within the vitreous cavity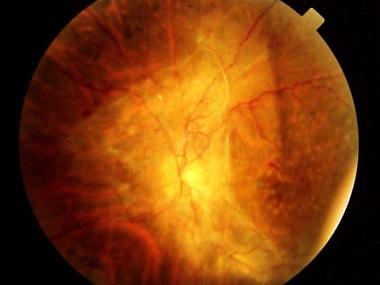 Extensive fibrovascular proliferations within and around the optic disc
Traction retinal detachments usually appear tented up, immobile, and concave, as compared to rhegmatogenous retinal detachments, which are bullous, mobile, and convex. A combination of both mechanisms is not an uncommon finding, however.
Macular edema is the leading cause of visual impairment in patients with diabetes. It may result from functional damage and necrosis of retinal capillaries. In cases of PDR, edema also may be caused by retinal traction if the retina is sufficiently elevated away from the retinal pigment epithelium.
Proliferative diabetic retinopathy is classified as early or high risk. [31] In early PDR, new vessels are present, but they do not meet the criteria for high-risk PDR. In high-risk PDR, NVD is one-third to one-half, or greater, of the disc area (DA); there may be any amount of NVD with vitreous or preretinal hemorrhage; and NVE is one-half or greater of the DA, with preretinal or vitreous hemorrhage.
---
Did this answer your question?
Additional feedback? (Optional)
Thank you for your feedback!